When I was an undergrad I got into the habit of using the extra time I had in the summers to read as much as I could. Some of my fondest memories of my time in college are of summer afternoons in the basement of the
Harold B. Lee Library
, reading books that were recommended to me by my
first intellectual mentor
. Since then, I've made it a bit of a tradition to put together a summer reading list for myself. I try to read books that, while entertaining, also change my perspective on my work, my relationships, or the world at large.
If you're looking for your own summer reading list, here are a few I'd recommend:
The Tipping Point.
I almost hesitate to list Gladwell's first best seller because it is so well known. While not a "classic" in the traditional sense, it's what I'd call an "oldie but goodie" in terms of the recent wave of popular psychology books. This was the first book I read during my first foray into summer reading. Reading it was like being handed a new set of glasses because I suddenly saw everything differently. It's especially useful for anyone who wants to understand how ideas disseminate and get adopted.
The Talent Code.
This is the best book I've read that I never hear anyone talking about. Dan Coyle does as good a job as anyone at telling the story of talent and skill. He draws from very sophisticated lines of research in neuroscience, instructional design, organizational behavior, and educational psychology, but writes in ways that make critical research accessible to nearly anyone. His suggestions for the design of learning and practice environments are second to none. While
Outliers
and
Talent is Overrated
get more press, I think Coyle's book is the best from this genre.
11/22/63.
I don't read much fiction, and I tend to stay away from uber popular fiction writers, but this historical thriller from Stephen King had me skipping meals and staying up all night. It's a bit of an intimidating read at 850 pages, but it felt much shorter because it was so engaging. King captures the social, political, and popular culture of the JKF, as well as an intriguing view of Lee Harvey Oswald. My guess is it's only a matter of time before Hollywood picks this one up, so read it before they ruin it.
Give and Take.
If you write in your books, be prepared with lots of extra lead when you this one from Adam Grant. He makes a refreshing and optimistic argument for the value of unselfishness, charity, and relationship-building. It's a book that will make you feel guilty for the times you've been a selfish jerk, concerned only with your own well-being; and, more importantly, help you see how being a "giver" isn't just the nice thing to do--it's the path to success. I'd say this is the best book I've read in the last five years.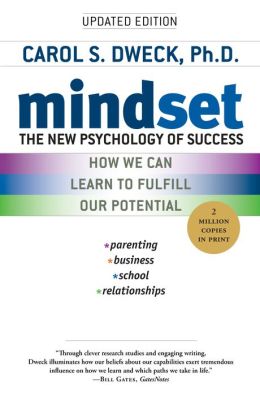 Mindset.
Carol Dweck's book on the psychology of success has impacted my thinking about teaching and learning as much as nearly any book I've read in the last decade. It changed the way I see and understand myself and my own tendencies (for instance, I came to see very clearly that my perspective on my artistics abilities was very fixed, while I was very growth-oriented when it came to athletics). What's more, it's just as applicable and useful for a teacher as it is a parent or a friend.
Mindset
is required reading for all the students I hire to work as peer mentors and 9 out of 10 report back to me that it has transformed their view of their educational experience. The short of it is that everyone should read this book.
What's on your list for this summer?